Wszystkie kina zamknięte !
W związku z sytuacją pandemiczną, wszystkie kina zostały zamknięte. Część z nich działa jedynie online, udostępniając filmy w modelu VOD. Pomóż kinom przetrwać ten ciężki dla nich czas !
Gdy tylko będzie znana data ponownego otwarcia kin, niezwłocznie ją podamy.
Cinema program "No Time to Die" in Poznań
No showtimes for movie "No Time to Die" for today
Choose other date from the calendar above.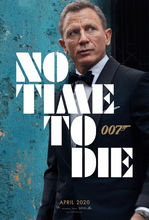 Original title:
No Time to Die
Production:
Wlk. Brytania/USA , 2020
Release Date:
3 April 2020
Distribution:
Forum Film
Directed by:
Cary Joji Fukunaga
Cast:
Daniel Craig
,
Ralph Fiennes
,
Ana de Armas
,
Rami Malek
,
Christoph Waltz
,
Léa Seydoux
,
Naomie Harris
James Bond leaves active service and enjoys a peaceful life in Jamaica. Meanwhile, however, his old friend Felix Leiter from the CIA is asking him for help. The mission of rescuing the kidnapped scientist turns out to be far more treacherous than it may seem and leads Agent 007 to the trail of a mysterious villain who has a new, extremely dangerous technology.

Movie trailer: No Time to Die